Key Ring: Zebra (Mbizi)
DESCRIPTION
Zebras are white with black stripes, not black with white stripes!
Zebras can't see the colour orange
A group of Zebras is called a crossing, a dazzle, a herd, a harem or a zeal!
The stripes of a Zebra are as individual as a fingerprint
The fastest recorded speed for a Zebra is 112 kmph!
---
PRODUCT DETAILS
Individually named by the lady who knitted it
Tagged with the name and photo (unless they are still in prison) of the knitter
CE tested
Hand knitted with a mix of acrylic and cotton yarns
Stuffed with a polyester toy stuffing
Wash by gentle sponge cleaning
You may also like…
Sale!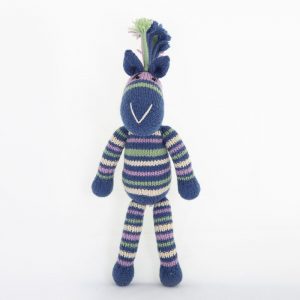 Original: Ruvara Zebra (Mbizi)
DESCRIPTION
Zebras are white with black stripes, not black with white stripes!
Zebras can't see the colour orange
A group of Zebras is called a crossing, a dazzle, a herd, a harem or a zeal!
The stripes of a Zebra are as individual as a fingerprint
The fastest recorded speed for a Zebra is 112 kmph!
Ruvara means colour in Shona – the main language spoken in Zimbabwe
---
PRODUCT DETAILS
Individually named by the lady who knitted it
Tagged with the name and photo (unless they are still in prison) of the knitter
CE tested
Hand knitted with a mix of acrylic and cotton yarns
Stuffed with a polyester toy stuffing
Wash by gentle sponge cleaning
Add to cart