Finger Puppet: Monkey (Shoko)
£6.00
DESCRIPTION
Monkeys peel their bananas and don't eat the skin
Albert II was the first monkey in space, he landed on the moon on 14th June 1949
A group of Monkeys is called a troop, a barrel or a cartload!
Monkeys can grasp with both their fingers and their toes
Some monkeys can count and understand written numbers
To attract a female partner, some species of monkey urinate on their hands and rub it into their fur
---
PRODUCT DETAILS
Individually named by the lady who knitted it
Tagged with the name and photo (unless they are still in prison) of the knitter
CE tested
Hand knitted with a mix of acrylic and cotton yarns
Stuffed with a polyester toy stuffing
Wash by gentle sponge cleaning
You may also like…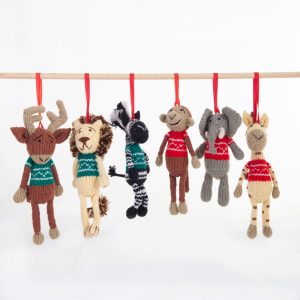 Christmas Decorations (Set of Six)
This set of 6 Christmas Decorations includes a Reindeer, Monkey, Lion, Giraffe, Zebra and Elephant – 3 will have red sweaters and 3 will have green ones (it may differ from what is shown in the photo).
They are also available individually.
Help us spread some Gogo Olive joy at Christmas!
---
Individually named by the lady who knitted it
Tagged with the name and photo (unless they are still in prison) of the knitter
CE tested
Hand knitted with a mix of acrylic and cotton yarns
Stuffed with a polyester toy stuffing
Wash by gentle sponge cleaning
£

40.00
Add to cart